Okay,
lets get down to business.
Time to talk about the bitch we all love to hate,
eyeliner.
Today we're going to cover all the types of liner, and styles of line that work for your eye shape. If you're unsure about what your eye shape is, click
here
to go to a post of mine dedicated to figuring that out. If you don't know what kinds of liner are all out there, or you have questions about some of them, click
here
to read all about it!
Lets get down and dirty.
Hooded eyes
can be frustrating to have, especially when it comes to eyeliner. For this particular shape, I'd say stick to pencil liner, and keep it really close to your lashline. These eyes have very little lid space, and I cannot stress enough how much of a
huge
no-no having thick eyeliner that takes up all of your visible lid is. Most of the time, these eyes can just do with a bit of black tight-lining on the upper lid. Tightlining is a technique we use for making the eyelashes appear even more full and fluffy, you simply take your pencil, and line the bit of skin right underneath your eyelashes.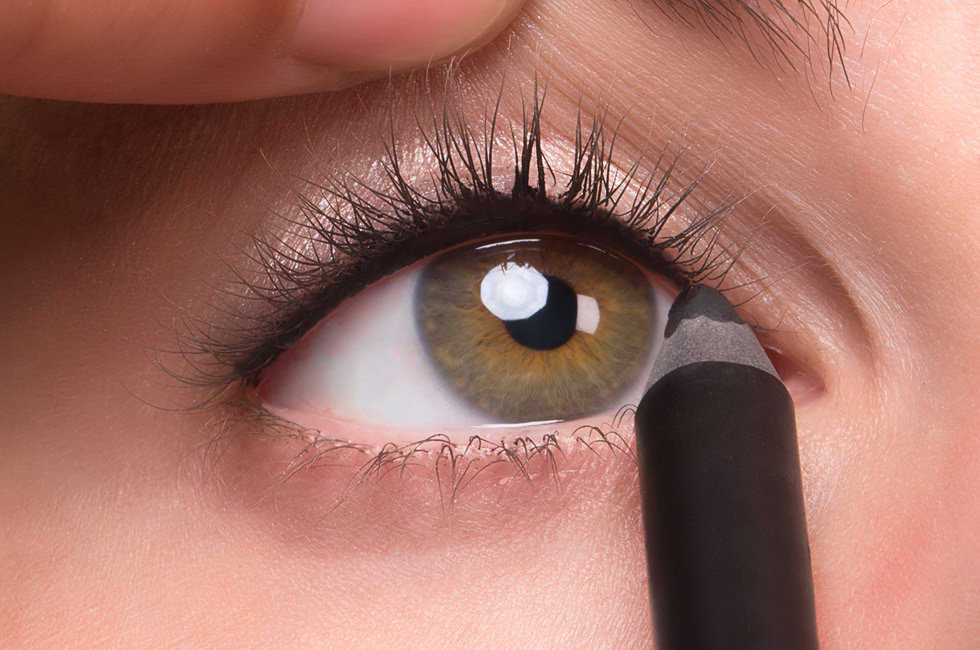 For an even more dramatic look, line that bottom water line with your black pencil too! I know it's a little disappointing, not doing big dramatic eyeliner with wings and whatnot, but when you work with your face instead of against it, you really will see a tremendous difference in your appearance.
Almond eyes
follow a similar rule to hooded eyes, depending on the ammount of lid space you have. A lot of what eye liner styles your shape works with has a lot to do with lid space if you haven't noticed. Just use your better judgement on this, if you don't have a lot of room, all you need is a little bit. As far as limiting this shape to a type of liner, I'd say you have free reign on this one, pencils, gels, liquids, it's all good for you.
Round eyes
are a great universal shape for eyeliner. Always remember, however, the eyeliner foul No. 1, Never let your liner become so thick that it disappears into your crease. But, since
most
round eyes have a lot of lid space, you can have fun with lots of cool winged looks and such. However, lid space is something you must use your better judgement on, I have round eyes, but I don't have all that much lid space, so I try to keep it close to my lashes. The same rule applies for downturned eyes and upturned eyes as well. Again, use your better judgement. I wouldn't limit you guys to any type of liner, experiment with all kinds and see which one you prefer the best.
Monolid eyes
can do a variety of different things. Most people tend to like keeping their liner close to their lashes with a pencil, but it's not a must. With monolid eyes, you can blend your eyeliner into your crease if you want. With these eyes in particular, the 'no crease vacationing' rule doesn't apply much, because there's almost no lid space to begin with. This technique is quite simple, but I would go look for a video tutorial if you'd like a more accurate representation of this style of liner.
One last great all-spectrum tip
is to line your bottom waterline with a nude color or white pencil, this will help your eyes appear more open and bright, this is good for all eye shapes and colors, and goes a long way in bringing any eye-look together.
A quick side note,
after this post I will do some fun false eyelash tutorials, however after that I will be moving on to foundation and face makeup, for which I will be coupling my posts with videos, especially the tutorial posts. So if you're interested in that, go ahead and follow me so you'll be updated when that content is released!
I'll be starting with a review and working my way from my personal foundation routine to tutorials on contouring and color matching, along with a Sephora haul!
Ta-ta for now lovelies,

God Bless.